---
PAWNEE, Oklahoma—Under growing pressure from environmental groups and ordinary Oklahomans to take action after the Oilfield Prayer Day on October 13 did not produce any tangible results and after several recent earthquakes, Oklahoma Governor Mary Fallin announced on Tuesday she will send a proposal to the state legislature that calls for the relocation of residents from the north-central area of the state, the area hardest hit by earthquakes.
"The Lord shall fight for you, and you shall behold peace and prosperity again in a new place," Ms. Fallin told residents packed in an overcrowded room at a community center in Pawnee, site of a massive earthquake on September 3, 2016.
Ms. Fallin told the worried residents, many who suffered extensive property damage and other losses during the recent earthquake, the relocations were necessary to ensure survival of the oil industry and preserve Oklahoma's future economic prosperity.
"It seems the Lord has changed His mind about the harm the earthquakes would do our economy, so an exodus from this region will both ensure the survival of the oil industry and remove you from harm's way if there would be any more earthquakes."

Earthquakes Linked to Oilfield Fracking
Since 2000, the number of earthquakes of 3.0 magnitude or greater that occurred in Oklahoma increased from an average of 2 per year to almost 700 in 2015. Counties in the north-central region have been ground zero for tremor activities, particularly Grant, Pawnee, Payne, Logan, Alfalfa, Osage, Garfield, Kay, and Noble.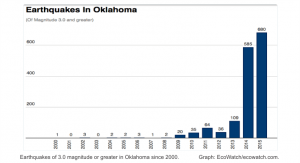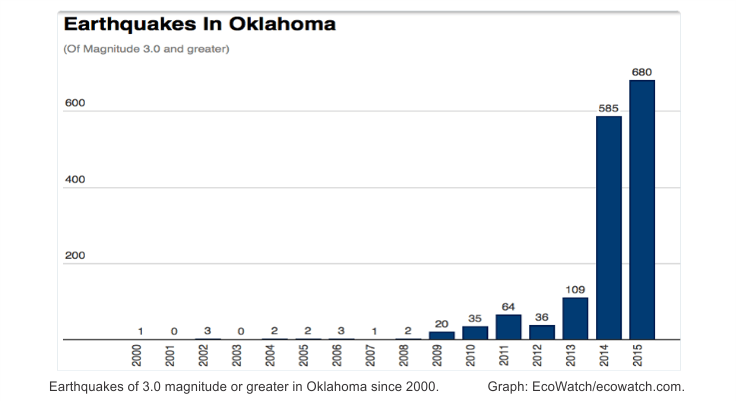 Several state and federal scientific investigations have traced the start of the explosive increase in the number of earthquakes to the same time that the state's boom in oilfield exploration began, which was fueled by widespread use of the controversial drilling technique hydraulic fracturing, so-called fracking—the injection of wastewater byproducts of drilling at high pressure into subterranean rock to extract oil and gas deposits.

Praying for Economic Recovery
Despite these findings, Ms. Fallin, a pro-business Republican serving in her second term, has refused to acknowledge the growing scientific evidence against fracking, instead has focused on state-sponsored prayer days, prayer breakfasts, and other prayer-based solutions.
According to her proposal, once all residents have been relocated, most of the counties in north-central Oklahoma will be accessible only to oil exploration companies and oilfield workers.
She explained to the Pawnee residents at the community center that her proposal is the best option because it had been revealed to her through prayer.
"The Lord has blessed this state with an abundance of natural resource, and we must remember that we are stewards of what He has given this great and wonderful state, and through this plan He has shown to me we'll show Him what good shepherds we can be."
Ms. Fallin said she would send her proposal to the Oklahoma legislature for consideration before the "Xmas holy holiday."

---
Willie Leroy Washington reports on the southern Great Plains states, the Deep South, and is based in the historic Black Belt city of Selma, Alabama.