---
SELMA, Alabama—Although Attorney General Jeff Session reluctantly recused himself from any Department of Justice investigation into matters related to the possible Russian meddling in the 2016 presidential election campaign, on Sunday he told a hometown radio station he intends to prosecute liberal commentators who host programs on the RT America cable channel, a Russian Federation-funded channel available through most American cable television and satellite providers.
"At a minimum, we'll file treason charges against the way-far-left, extremist liberals who host programs on what every soul on God's green earth knows is a straight-out Russian propaganda outfit," Mr. Session said during an appearance on Bible Answers Live, a Bible study program hosted by Pastor Christian White of the Dixie Baptist Church of Selma, Alabama, on station WHBB 1490 AM, a conservative, evangelical Christian station.
Mr. Sessions, a Selma native, told Mr. White that the liberal commentators on RT America are a "snake lair of communist sympathizers hell-bent on ripping the guts out of America from the inside."
"Almighty Father God in heaven knows they're under direct supervision of Putin and engaging in wicked collusion with Russian intelligence agencies with the sole purpose of undermining the moral Christian fiber of American democracy," the former U.S. senator said.
"That they're on there shows they ain't loyal Americans but unpatriotic, disgusting infidels who should be prosecuted to the full extent of the law."

The Communist Takeover of America Will Be Televised

RT America, a part of the network of Kremlin-bankrolled channels formerly known as Russia Today, is widely acknowledged in the worldwide intelligence community as a propaganda arm of the Russian government and intelligence-gathering agencies.
The name change to RT in 2009 was viewed as a trick to attract more American viewers by deceptively camouflaging the Russian government connection.
News and political talk show programming on RT America feature prominent left-leaning American liberal and progressive hosts, including labor activist Ed Schultz, social activist Chris Hedges, famed lawyer Mike Papantonio, liberal comedian Lee Camp, longtime progressive broadcaster Thom Hartmann, and veteran radio and TV host Larry King.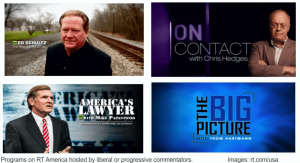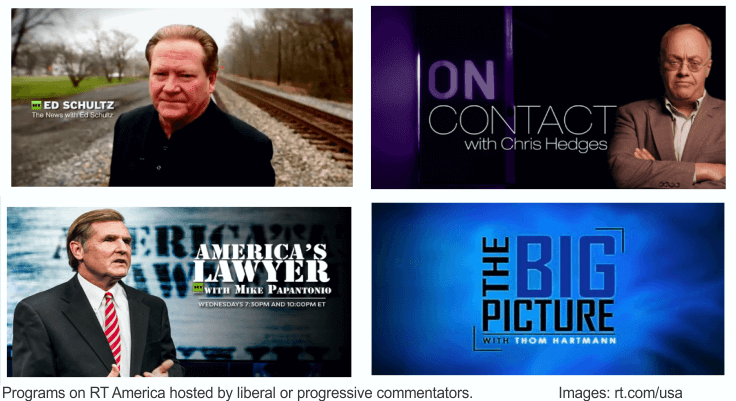 Even though in the past several liberal RT America hosts claimed they have complete freedom of expression, many political analysts point to the absence of criticism of Russian Federation president Vladimir Putin as proof of censorship, and many intelligence analysts believe the hosts are unsophisticated pawns promoting the goal of Mr. Putin to make communism more palatable to unsuspecting American television viewers.

Trump Didn't Know About RT America

After joining in with Mr. White to fulfill several call-in prayer requests, Mr. Session discussed his ongoing upset and disgust with how an appearance on RT America by then-candidate Donald J. Trump was portrayed in the "radical extremist left-wing press."
"You already got all these godless heathens on there and then the president goes -- and he doesn't even know what channel he's going on, and then the radical leftist bicoastal elite media, whiny liberals, all the nutjobs in the Democrat party want to accuse him of being a Russian spy or something. That's just the most silliest dagnabbit thing I've ever heard of ever."
In September during the 2016 presidential general election campaign, many Democratic politicians and commentators pilloried Mr. Trump for his appearance on Mr. King's RT America program.
During the ensuing controversy, Mr. Trump sent a tweet that explained his knowledge of the incident.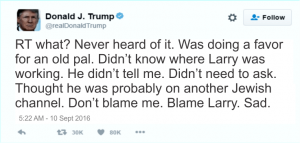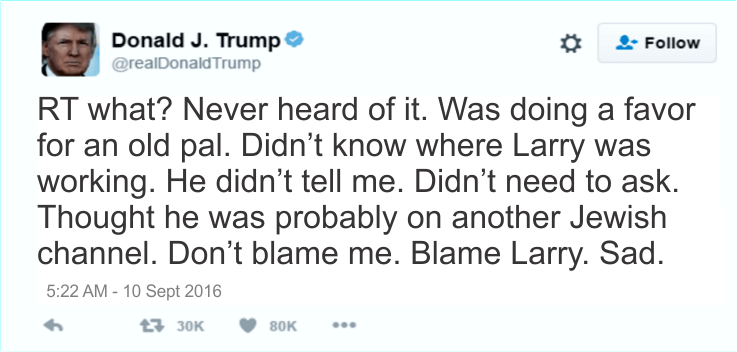 Liberal RT America Hosts Will Be Punished
Subsequently, after reciting several Bible verses that he said would guide him in performing the responsibilities of the Attorney General of the United States, Mr. Session sent a warning to the liberal hosts on RT America about the "justice that awaits them."
"All the libtards, the Islamo-Marxist traitors, the snowflakes, the rainbow jihadists, the hippie lunatic fringe, the pinko commie heathens who practice idol worship of Putin on that channel, their fate is holy fire and brimstone. I swear in the name of Jesus Christ, our Lord and Savior, they'll be prosecuted, persecuted, chased to the very edge of hell."

All the libtards, the Islamo-Marxist traitors, the snowflakes, the rainbow jihadists, the hippie lunatic fringe, the pinko commie heathens who practice idol worship of Putin on that channel, their fate is holy fire and brimstone.
Mr. Session also told Mr. White he would focus specifically on Mr. King because it seems "quite unusual and suspicious" that he hosts two shows.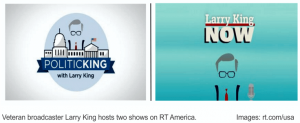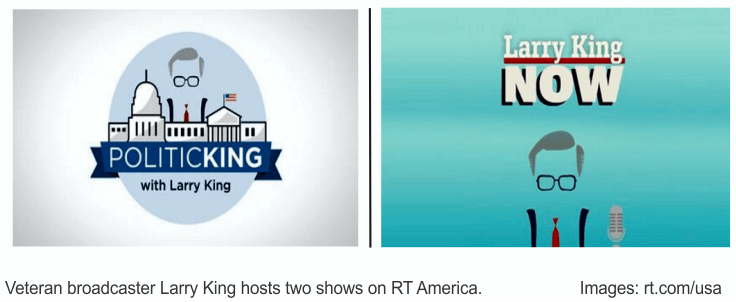 "And we're gonna see 'bout bringing Larry in, find out what he's got on Putin and when he got it and how he got it," Mr. Session explained. "One way or another, I'm gonna git to the bottom of this Russia thing."

---
Willie Leroy Washington reports on the Deep South and the southern Great Plains states and is based in the historic Black Belt city of Selma, Alabama.