---
WASHINGTON, District of Columbia—Although many political commentators, across most political persuasions, continuously drumbeat the viewpoint that the contentiousness of the 2016 presidential general election campaign has created a divided, polarized America electorate teetering on the brink of a race war or class warfare, the results of a recent survey clearly dispel that notion.
Only 25% of Americans believe the country is divided or polarized, according to analysis of the more than 300,000 respondents in the Colored Folks Times-Dispatch|SurveyMonkey poll conducted online from September 5 through September 11, 2016.
The analysis also revealed belief in a polarized America resonates almost entirely with two cohorts of survey respondents: cable TV on-air talent and so-called identity-politics content producers.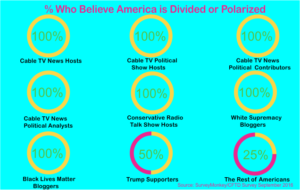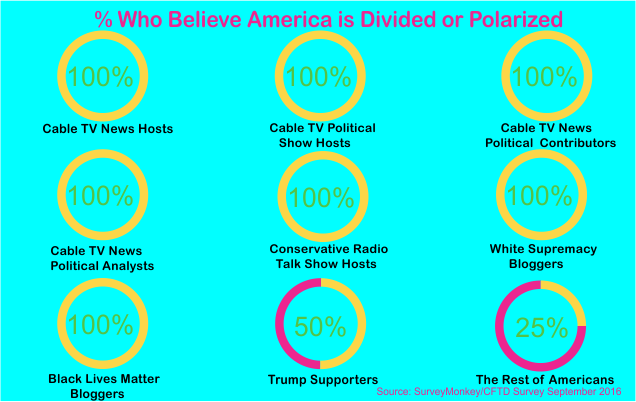 In a 2-question follow-up survey conducted to further pinpoint views held by the groups who believed in a polarized America, the groups doubled down on their belief.




While these groups expressed a strong belief that America is polarized, few provided meaningful comments to support their outlook.
A comment posted by an identity politics blogger sums up the mindset of the groups: "We just know what we believe and we'll continue to believe in it no matter what."

---
Givhan N. Cites reports on dynamics of the 2016 presidential general election campaign.