---
TAKOMA PARK, Maryland — A far-left leaning, activist LGBT group issued a press release today condemning the Hillary for America campaign logo as homophobic and dog whistling directed at right-wing, evangelical Christian voters.
In the statement, the Stonewall Jackson National Transgender Liberation Army (SJNTLA), a Maryland-based advocacy group, stated several objections to the logo. The group believes the "straight arrow" is a "homophobic wink and nod" and the red color and rightward direction of the arrow an appeal to "knuckle-dragging, looney-tunes, evangelical Christian voters."
Sally-John Williams, a spokesperson for the SJNTLA, said in an email they believe Hillary for America purposely chose to use this "devious tactic" because the campaign has immense resources and can afford to hire the best marketing and advertising consultants to create a logo.
"It's clearly dog whistling at rabid homophobes and Christian wingnuts," Ms. Williams said.
"Surely poor little Hillary can come up with something better. We're not fooled by this blatant pandering. We know they [former-President Bill Clinton] put the panda in pandering, but this time they've dipped the bar even lower."
The group proposed a new logo that incorporates the rainbow colors adopted by the LGBT movement. "It's a more inclusive design and clearly not homophobic," said Mr. Williams.
Logo design proposed by the SJNTLA.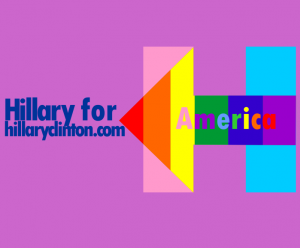 Ms. Williams said they are also very curious about Ms. Clinton so-called evolution to support same-sex marriages.
"We don't think her position has changed at all on marriage equality. They're both [former-President Bill Clinton] Southern Baptists, so what else would you expect."
The group plans to challenge Ms. Clinton on the campaign trail. "We will hound them in every city and town across this country and dog them into changing this logo," Ms. Williams said.
When reached by telephone, Maggie Melton, Mid-Atlantic director of Hillary for America, refused to comment on the accusations made by the SJNTLA. "We've heard enough about the logo," Ms. Melton said. "We've moved on, but this one clearly came from way, way out of left field."

---
Image Source: https://goo.gl/G1FTRw
License: https://creativecommons.org/licenses/by/2.0/