---
SELMA, Alabama—Amid the public barrage of contempt and ridicule heaved at the Southern Baptist Convention (SBC) during its Annual Meeting in Phoenix in June for the reluctant approval of a resolution that condemned the sudden widespread resurgence of white supremacy activism in the United States, the fate of a more controversial resolution escaped notice.
Unlike the approved resolution, the Resolution Seeking Divine Revelation to Understand Will Hamites and Canaanite and Negroes Be in Heaven did not make it out of the SBC Resolution Committee, the first step needed before a vote by all meeting attendees.
However, the resolution committee ruled that the resolution, introduced by Jimbo Wallace, a white evangelical preacher from Selma, Alabama, could be reintroduced in ten years.

To Resolve the Promise of Scripture
In his resolution, Mr. Wallace sought to compel the SBC leadership to mandate that all member churches engage in a yearlong series of special prayers and revivals in hopes to induce a divine revelation to show, according to Mr. Wallace, "who else besides white people are in heaven."
Unlike the long-winded, 5-page approved resolution—titled Resolution on the Condemnation of the "Alt-Right" Movement and the Roots of White Supremacy—Mr. Wallace presented a simple resolution, citing biblical support:

WHEREAS, Scripture teaches that from one man God made every nation of mankind to live on all the face of the earth, having determined the boundaries of their habitation (Acts 17:26);
WHEREAS, HE said, Cursed be Canaan, and by extension his father Ham; a servant of servants shall he be unto his brethren (Genesis 9:25);
WHEREAS, the promise of Heaven includes the eternal blessings of the Tree of Life and to live is Christ and to die is a gain, our desire is to depart and be with Christ, and we would rather be away from the body and at home with the Lord (2 Corinthians 5:8);
RESOLVED, that we earnestly pray and seek Divine guidance and revelation if the truths of the Curse on Ham and Canaan are manifested in the Home of the Heavenly Father, that is, if Hamites, Canaanites, and Negroes are in Heaven.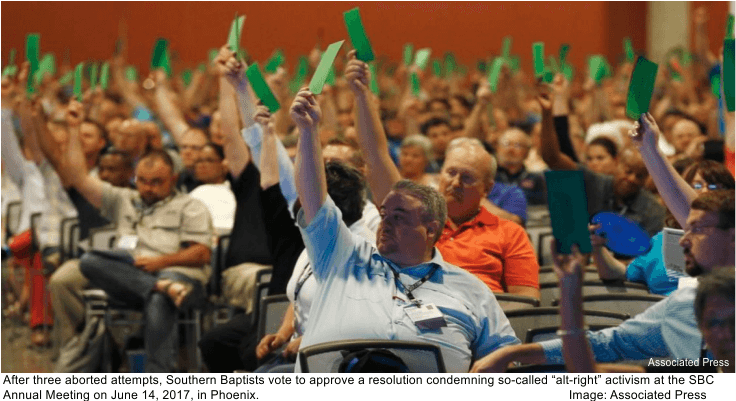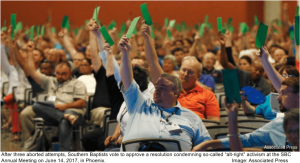 Noah Baptists — Fulfilling Noah's Decree
Mr. Wallace, age 81, preacher emeritus at the Noah Baptist Church of Selma, Alabama, said he initiated the resolution because he was approaching the time "when the Lord gonna call me home."
"I ain't worried no more about no more earthly things. Time spent with Father God in Heaven is more important right now, and I just need to know who else gonna be with us and Heavenly Father," Mr. Wallace said in an interview conducted in his office at the church, located on West Dallas Avenue here in Selma.
The Noah Baptist denomination was one of the first denominations to be admitted into the Southern Baptist Convention when it was formed in 1845 on a pro-slavery Christian evangelism ideology.
In all aspect of life, Noah Baptist devotees teach, preach, and follow a fundamentalist interpretation of the biblical curse on Ham and Canaan—the foundation the Southern Baptist Convention used to justify slavery, the Confederacy, white supremacy, segregation, and Jim/Jane Crow laws across the wide arc of Deep South history.

Fear of a Negro Heaven
Mr. Wallace fiercely refused to acknowledge the overt racial overtone of his resolution.
"I ain't never been anti-Hamitic or anti-Canaanitic neither," he explained. "I just wanna make sure what the Good Book say is true up there too."
He also said it might not be possible to resubmit the resolution at the 2027 SBC meeting because "He could be winding my clock down even now."
"Waiting for the Southern Baptists might be too long for me, so we're just gonna pray harder here at the church, do some special prayers and praises for however long it takes until we hear or see something."
Mr. Wallace expressed confidence a revelation would be forthcoming and was sure "the Lord will come through either way."
"Even if it ain't what we're hoping for, we're hundred percent sure Heavenly Father has set aside some special situations or designations so He can reward Noah Baptists for faithfully carrying forth His message on earth."

---
Willie Leroy Washington reports on the Deep South, based in the historic Black Belt city of Selma, Alabama, Queen City of the Blackbelt and the Butterfly Capital of Alabama.