---
WASHINGTON, District of Columbia—Veteran broadcaster Tavis Smiley and prominent pro-black activist Cornel West will finally give President Donald J. Trump a dose of their 2011 Barack Obama treatment.
Earlier this week, the two longtime civil rights activists announced plans for a 20-city, 18-state, anti-poverty bus tour—Going to Meet the Man Poverty Tour 2, an effort to resuscitate their 18-city, 11-state, anti-Obama 2011 Poverty Tour: A Call to Conscience campaign that ostensibly focused on highlighting the depths of poverty in the United States.
With the Going to Meet the Man Poverty Tour 2, the activists will engage a more tactical approach in the fight against poverty, with hopes to avoid repeating the failures and lack of success produced by the 2011 poverty tour.
Whereas the 2011 poverty bus tour stopped at venues such as soup kitchens, homeless shelters, halfway houses, drug rehabilitation centers, Native American reservations, tent cities, urban slums, and Appalachian communities, the Going to Meet the Man Poverty Tour 2 bus caravan will stop at venues located in some of the highest-income neighborhoods in the United States.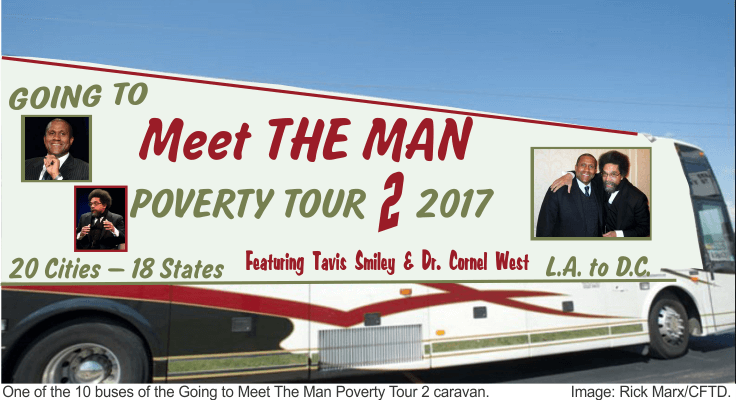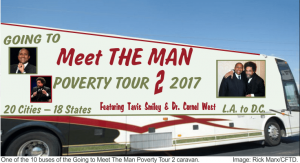 "We're going directly to the root causes of poverty, economic disparities, and income inequalities," said Richard Tarver, spokesperson for the 2017 poverty tour—speaking from the tour headquarters in Los Angeles via a FaceTime interview on an Apple iPhone.
"Obama did nothing, he failed badly, there's still poverty, and it's gotten worse," Mr. Tarver continued.
"So Tavis and Dr. West will be taking it straight to the man, directly to Trump's people, from L.A. all the way to D.C., Chocolate City, educating them about poverty in America, real life, up front, face to face."

A Tour With Real Poverty This Time
The 10-bus Going to Meet the Man Poverty Tour 2 caravan will carry a diverse collection of Americans, of all ethnicities, who are directly experiencing the helplessness and hopelessness of poverty, including low-income workers, minimum-wage fast-food workers, unemployed ex-cons, homeless veterans, adults with physical disabilities, adults with mental disabilities, single mothers with children, welfare recipients, unemployed former factory workers, struggling lower-middle class families, and wages-starved farmer workers.
At each tour stop, Mr. Smiley and Mr. West will conduct a town hall-style meeting where caravan members will share with the audience their real-life experience with poverty and income inequalities through gripping, heart-tugging, dramatic presentations.
And the audience will have an opportunity to directly engage person to person with real-life poor people through interactive, hands-on, touch-and-feel exhibits and installations.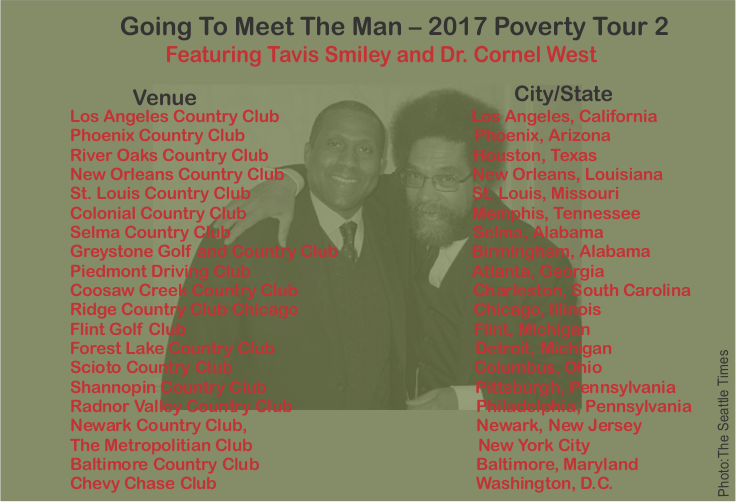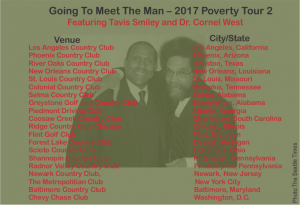 "Last time, they know they just talked about poverty, but this time they're really going to show the backbreaking, hardscrabble realities of grinding poverty through people who struggle with poverty day in and day out," Mr. Tarver said.

The Second Time Around Is Always Better

Mr. Smiley, a Christian capitalist, and Mr. West, a Christian socialist and college professor, will use the Going to Meet the Man Poverty Tour 2 bus tour as a vehicle to "finally join the Resistance and set the agenda for the 2020 presidential election and the defeat of Trump," according to Mr. Tarver.
The activists hope the tour will receive more press coverage and generate better appreciation this time "from the community," although they readily admit, Mr. Tarver said, "the 2011 tour accomplished diddly-squat and tons of people were disappointed and really, really pissed at them."
However, "They are very much aware that there are some Negroes out here who just can't and won't ever be satisfied no matter what they do ever," Mr. Tarver explained.
The official dates and itinerary for the Going to Meet the Man Poverty Tour 2 bus caravan will be announced in the coming weeks, and the activists expect to conclude the tour before the Thanksgiving weekend.
---
Givhan N. Cites covers national news and politics.