---
WHITE VOICES — The children of American billionaires can now aspire to that lofty dream held by all red-blooded, flag-waving, apple pie-eating America children: They too can grow up to be president of the United States of America.
With Donald J. Trump's ascension to the American presidency, the children of the current 585 American billionaires can realistically imagine reigning over the White House.
The billionaire class finally has a presidential role model.
Without any doubt, future historians will judge the pre-billionaire era of the American presidency as one of the least acknowledged period of de facto and de rigueur discrimination against an American minority group.
And it will be left for those historians to research, opine, and explain why American exceptionalism could not shine a beacon of hope for children of billionaires so they could strive to overcome this very blatant discrimination.
So it fell to the rest of the world to shine Klieg lights of hope for the children of billionaires.
Indeed, the United States staggeringly lags behind most developed countries—and also behind some third world nations—at allowing billionaires a shot at holding the highest national government office.
Over the last 50-plus years, billionaires in many countries across the globe have overcome widespread anti-billionaire bigotry and risen to top national leadership positions.

Post-World War II European Progress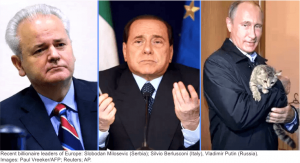 During his tenure as prime minster of Italy, Silvio Berlusconi was reported to have a net worth of over $9 billion. Slobodan Milosevic, president of Serbia/Yugoslavia for 11 years, had a net worth of over $1 billion.
Several financial publications have estimated that Vladimir Putin, the current Russia president, has a fortune worth more than $40 billion.

And Arab Countries Have Had Billionaire Leaders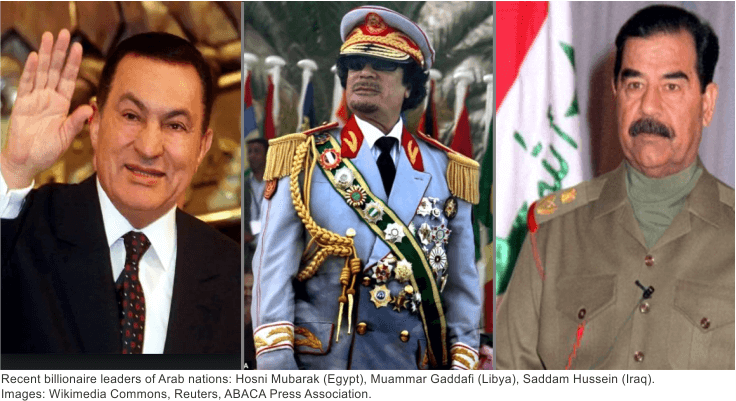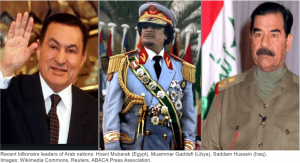 Before his untimely death in 2006, longtime Iraq leader Saddam Hussein's net worth exceeded $10 billion. Hosni Mubarak, the former long-serving president of Egypt, still holds onto personal wealth between $40 billion and $70 billion.
But the wealth of these two Arab leaders pales in comparison to the riches of former Libyan leader Muammar Gaddafi, who before his unexpected death in 2011 was not only the richest world leader but also the richest person in the world, a whopping net worth exceeding $200 billion.

Sub-Sahara Africa Countries Don't Discriminate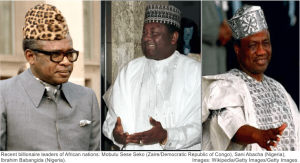 Some of the economically poorest and undeveloped nations lie in sub-Sahara Africa, yet in several countries politicians have risen from such dire existence to become president, most notably Nigeria.
Over a 50-year span Nigeria produced several billionaire presidents, including Sani Abacha (net worth, $2 billion to $5 billion) and Ibrahim Babangida (net worth, $12 billion).
Mobutu Sese Seko (net worth $4 to $5 billion), former President of Zaire/Democratic Republic of the Congo, was possibly the earliest native sub-Sahara Africa billionaire leader when he rose to the presidency in the 1960s.

Bigly Americas Fail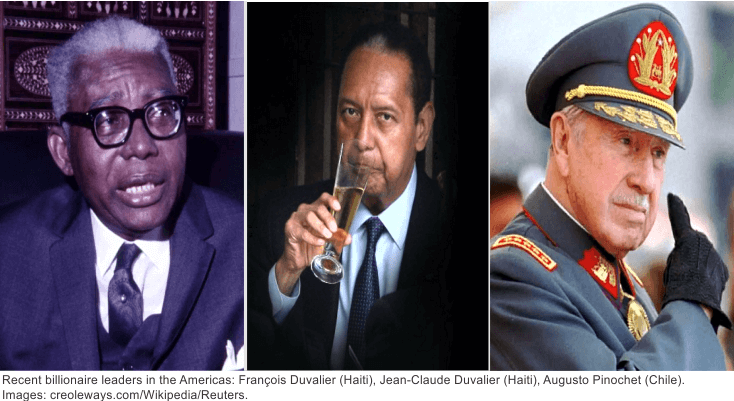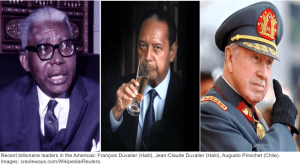 Surprisingly, in god-forsaken, world-forgotten Haiti, the poorest country in the Western Hemisphere, two billionaires were elevated to the presidency, the father-son duo of François "Papa Doc" Duvalier and Jean-Claude "Baby Doc" Duvalier. Both had net worth exceeding $1 billion.
When Augusto Pinochet served as president of Chile between 1973 and 1990, his net worth exceeded $3 billion, much of it amassed through the prolific efforts of money managers at the now-closed Riggs Bank of Washington, D.C.

Trump was Long Overdue

The billionaire leaders noted here—and in dozens of other nations—have erected a Himalayas-tall high bar of eye-popping, head-scratching, jaw-dropping leadership accomplishments that President Trump will no doubt struggle to attain, let alone exceed.
However, although President Trump's self-reported wealth seems miniscule when compared to billionaire leaders of other nations, past and present, being the leader of the richest nation known to Almighty God presents a ginormous steppingstone to cast a keystone to show the children of the billionaire class that becoming president of the United States is a worthwhile dream to dream.

---
Jim White is the Reverend Jerry L. Falwell Distinguished Chair in Socio-Religion Pathology at Liberty University in Lynchburg, Virginia.