---
WASHINGTON, District of Columbia — While the nation continues to mourn following the murders last week of four Marines and a Navy sailor in Chattanooga by an ISIS-encouraged terrorist, controversial Christian evangelist Franklin Graham has called for the creation of a Christian corps within the U.S. Army dedicated to eradicating ISIS, a Koran-inspired, barbaric terrorist group that invaded large swatches of Iraq and Syria and seeks to establish a so-called Islamic caliphate.
Writing on his Facebook page, Mr. Graham called on Speaker John Boehner and Senate Majority Leader Mitch McConnell to bypass "that Indonesian Muslim in the White House and the godless Democrats" and pass legislation to create a special operations unit composed of Christian soldiers.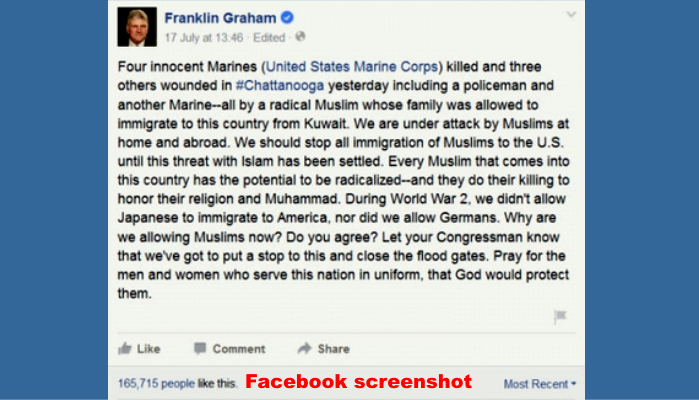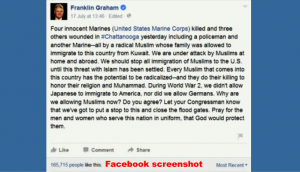 Mr. Graham wrote: "We've been waiting almost two years for him to outright condemn ISIS, but he refuses to do so because they don't bad-mouth each other. So I'm calling on the Republicans in Congress to take action so that we stop them over there before more of them get over here."
There are currently four corps in the U.S. Army. Mr. Graham proposed a fifth corps that would have five divisions of 20,000 Christian soldiers per division. He also proposed the corps to be named the Knights Templar Corps and once created stationed in Israel.
"In the Bible it says as a Christian nation we are bound to protect and defend Israel forever," he wrote. "ISIS is eventually going to invade Israel. It's no secret that they get their weapons and marching orders from Iranian ayatollahs."
Mr. Graham, president and CEO of the Billy Graham Evangelistic Association, wrote that out of over 400,000 active duty soldiers the Pentagon should easily be able to locate 100,000 "dedicated American Christian soldiers" to fill the corps.
He also wrote that it wouldn't be a surprise if over the past seven years President Obama had gradually transformed the mighty U.S. military into "bunches of broken-down apologists and weakened Ebola-fighting warriors." He wrote that if 100,000 "fully committed, loyal American Christians" could not be found he would start a recruitment ministry."
The Facebook post concluded with an "urgent call to arms for all Christians."
"The time and hour is near. At the name of Jesus, Satan's host doth flee. On then, Christian soldiers, on to victory. Hell's foundations quiver at the shout of praise. Brothers, lift your voices. Loud your anthems raise. Crowns and thrones may perish, kingdoms rise and wane, but the Church of Jesus constant will remain. Gates of hell can never against the Church prevail. We have Christ's own promise, which can never fail."

---
Holleran N. Yellen II covers religion, cultural, and lifestyle news.
Image Source: https://goo.gl/TSMl5x — Franklin Graham at Festiweal Nadziei (Festival of Hope) in Warsaw 2014.06.15 by Leszek Jańczuk.
License: creativecommons.org/licenses/by-sa/3.0/us/.