---
WASHINGTON, District of Columbia—Free speech activist Pamela Geller demanded National Basketball Association (NBA) commissioner Adam Silver enact a ban immediately on "Islamic-promoting beards" worn by many NBA players and establish hygienic standards for "civilized" beard lengths and grooming.
Appearing on Tipping Point with Liz Wheeler—a political affairs program on One America News Network, a conservative, Christian, evangelical cable media outlet—Ms. Geller singled out the lengthy beard worn by Houston Rockets superstar James Harden as an example of a beard with "significant Islamic overtones."
"I fear the beard of James Harden promotes an Islamic viewpoint and Islamic culture, not Christian and Jewish values," Ms. Geller told Ms. Wheeler. "I'm concerned that the NBA is, unwittingly or not, contributing to the civilization jihad that will destroy us from within."

I fear the beard of James Harden promotes an Islamic viewpoint and Islamic culture….
Ms. Geller, president of the pro-Constitution group Stop! Islamization of America and president and cofounder of the American Freedom Defense Initiative (AFDI)—an advocacy group whose mission stated on its website is to create a common Judeo-Christian coalition of free people to oppose the advance of Islamic law—has sponsored many events aimed at preventing the spread of Islamic culture in America, including sponsoring advertisements on public mass transit systems in New York City, San Francisco, Chicago, Philadelphia, and the Washington, D.C., metropolitan area.
In addition, she said her groups would also ask Mr. Silver to prohibit players from making "Islamic prayer-like" pointing gestures during celebrations after exemplary plays.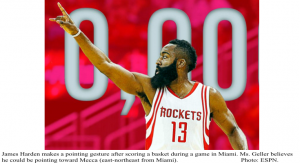 "We've noticed for many years now players are pointing toward the top of the arenas and in other directions after they score. But we believe many of the bearded players are clandestinely pointing toward Mecca, which Muslims are required to do when they pray. So we would want the commissioner to ban all emphatic pointing gestures in any direction made by players after scoring a basket, particularly Harden, who seems to score whenever he gets the ball."
In response to a question from Ms. Wheeler that her demands could be construed as racist because the majority of NBA players are black Americans who are probably Christians since Christianity has such a "strong, deep, everlasting grip" on the African-American community, Ms. Geller accused Ms. Wheeler of trying to silence her.
"My enemies try to paint me as a racist, Islamophobic, anti-Muslim bigot because they want to silence me. You're demonized, you're marginalized, and you're rated radioactive if you complain about the growing Islamization of America culture," she declared.
"Islam is not a race. This is an ideology. This is an extreme ideology, the most radical and extreme ideology on the face of the earth. If you don't lay down and die for Islamic supremacism, then you're a racist anti-Muslim Islamophobic bigot. That's what we're really talking about here."
She said the AFDI is actively investigating the outside activities of several "foreign" NBA players who sport very long beards.
If Mr. Silver takes no action on her demands, Ms. Geller said the AFDI will launch protest ads at every NBA venue.
"Just as we did with the jihad ads in the transit systems, we will run ads wherever the NBA has a presence—outside their headquarters in New York City, in all cities that host NBA teams, inside NBA arenas, and on media that broadcast NBA games, including NBA TV, ESPN, TBS, and local sports channels."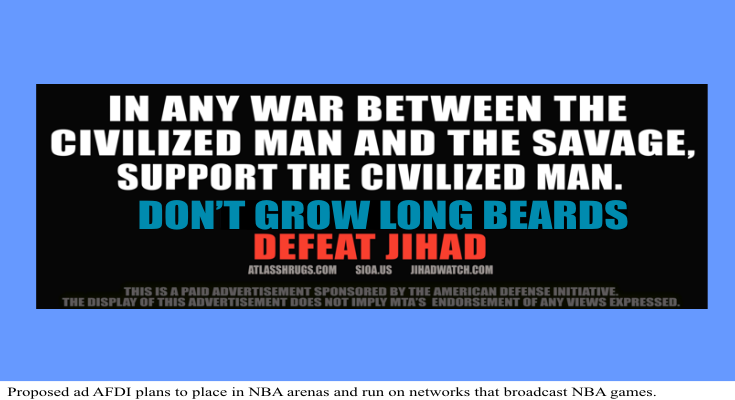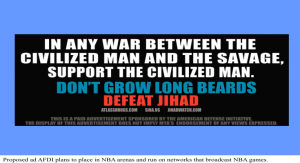 "To say that the NBA promotes Islamic culture is a bit of a stretch, if not outright ludicrous," said Malik Abdallah al-Rashed, a former NBA player turned social critics and managing editor of the website The Indefatigable, which explores the intersections of race, sports, and religion.
Mr. al-Rashed, a devout Muslim (known as James "Stretch" Jones during his 10-year NBA journeyman career), converted to the Nation of Islam after ending his professional basketball career.
Responding by telephone, Mr. al-Rashed said when he played in the late 1980s it was rare to see an NBA player who wore a beard.
"Back in the day, coaches and owners didn't allow player to wear beards. They wanted a clean-shaven, All-American image. The only person I can remember with a beard was Kareem [NBA Hall of Famer Kareem Abdul Jabbar, formerly Lew Alcindor before converting to Islam], so maybe he started the beard trend way back then. Ballers tend to be copycats anyhow."
Mr. al-Rashed conceded Ms. Geller may have a point about hygiene and grooming.
"I've noticed that many beards look scruffy, unkempt, and some even downright dirty and seedy. So she might be onto something there."

---
Aaron "Big Boy" Williamson, a former 12-year NFL pro, reports sports.