---
WASHINGTON, District of Columbia—Rapper and political activist Killer Mike, a prominent Bernie Sanders supporter during the Democratic presidential primary campaign, held a conference call yesterday with dozens of popular rappers and hip-hop artists and warned them to avoid getting tricked into a "Sister Souljah Moment" by the Hillary Clinton campaign.
Killer Mike told the conference callers he had received a tip that the Clinton campaign is planning "something huge" to help boost Ms. Clinton's appeal among Republican and moderate voters, according to a rapper who participated in the conference call—who spoke under the condition of anonymity because he did not want to jeopardize his role on the upcoming Killer Mike CD recording, which he will be featured on several tracks.
"He got good inside info 'cause he got peeps working inside now with Clinton who dropped that on him," the anonymous rapper said in a telephone interview.
"Said they might do a Sista Souljah on him so they can get votes from unwoke white folks who don't wanna vote for Trump but don't like Bernie either."
The anonymous rapper said Killer Mike advised the callers to avoid attending political events until after the election.
"Said just lay low and 'specially don't do small stuff like community center meetings, churches, union halls, even if they peeps they know."
A Political Dirty Trick Is Born
In June 1992, in a speech at a political event hosted by Jesse L. Jackson Sr., Democratic presidential Bill Clinton inaugurated the first Sister Souljah Moment with his unexpected, sensational denunciation of Mr. Jackson for his association with Sister Souljah—at the time a popular author, rapper, activist who had previously made controversial statements considered by Mr. Clinton to be racist and who had spoken at the same event the day before Mr. Clinton's speech.
After the 1992 election, the so-called Sister Souljah Moment became defined as a political takedown tactic used by politicians to disassociate their campaign from a specific public figure or a certain voting bloc, particularly centrist or conservative politicians seeking to disavow the perceived support of an ethnic or racial group or politician.
Worries About Backstabbing Bernie
The anonymous rapper said Killer Mike told the conference callers he was concerned the Clinton campaign would "backstab Bernie in the end."
"Killer worried they gonna set Bernie up, you know, saying he's been hanging with criminals and use that against Bernie so she can get votes from country white folks who scared of city black folks."
The anonymous source would not reveal if popular rappers such as Drake, Chris Brown, Kendrick Lamar, Macklemore, Lil Wayne, Nicki Minaj, Run the Jewels, Chance the Rapper, Iggy Azalea, and Kanye West participated in the conference call but indicated those on the call were the "fattest and dopiest names out here."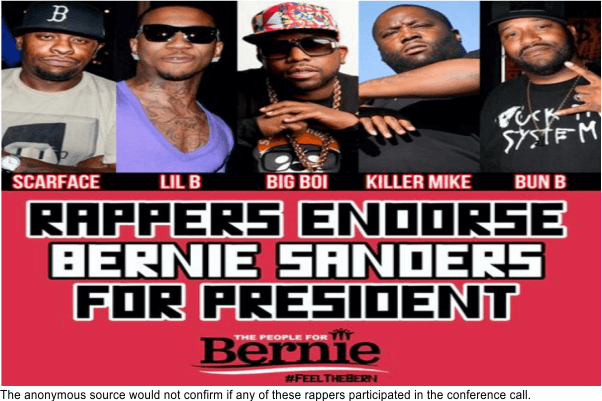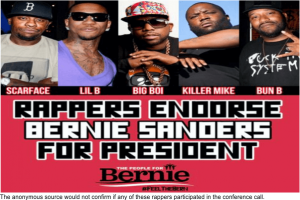 However, he said the conference call participants would be revealed when Killer Mike releases his post-election, political-themed CD in early 2017.
"When Killer drops These Democrat Hoes Ain't Loyal he gonna shout out to the people on that call and you'll see all the big names that were there then."
In a telephone interview from Atlanta, Killer Mike would not confirm the conference call occurred nor the title and release date of his forthcoming CD.

---
Givhan N. Cites covers the 2016 presidential general election campaigns.