---
WASHINGTON, District of Columbia — Veteran rapper Common will release a CD of country music later this month. The recording, Modern Sounds in Country and Western Music, Volumes 1 & 2, represents Mr. Common's first venture outside the rap genre.
According to the rapper's publicist, Becky Driver, the CD further extends Mr. Common's efforts toward racial reconciliation and racial harmony he expressed during his March appearance on The Daily Show with Jon Stewart.
Speaking on the phone from New York City, Ms. Driver said shortly after Mr. Common's appearance on the show he had an epiphany. "He told me he had a dream that he would get together with a bunch of white dudes and make some very crucial music about improving race relations," she said.
Ms. Driver said the choice of country music was organic and instinctive. "He's always felt a deep connection to country music and the wholesome culture and lifestyles it promotes."
During his The Daily Show with Jon Stewart appearance, Mr. Common asserted his frustration with the gradualism of American racial progress over three centuries.
He said: "Me as a black man, I'm not sitting there like, 'Hey, white people, y'all did us wrong.' We know that existed. I don't even have to keep bringing that up. I'm saying, 'Hey, I love you. Let's move past this. Come on, baby, let's get past this.'"
In a telephone interview, Mr. Common said another part of his dream was to record with black and white musicians jamming together, but he had an extremely difficult time finding "a black country band anywhere in the country."
After a long search, he stumbled upon Status Quo Gypsies, a black country music band that disbanded many years ago after failing to break into country music.
"I got lucky and bumped into somebody who knew about these old geezers. They hadn't played together in years, but, man, they were still tight and jammed just the way I'd imagined a black country band would. And the music was just too dope."
Country music critic and blogger Cleotis Smith believes indeed the music is exceptional. In a review of the CD on his blog, Nashville Sucks, he gives kudos to the authentic retro and rural country music styles rarely heard today in country music.
Mr. Smith wrote: "He jumped into the way-back machine on this one. Not just Country, he went all out Country and Western. Country music purists will appreciate the stripped-down, old-timey production. This is the music of Lefty Frizzell, Buck Owen, Roy Clarke, George Jones, Porter Wagoner and Dolly Parton, Minnie Pearl, Grandpa Jones, Roy Acuff, the Hag [Merle Haggard]."

Not just Country, he went all out Country and Western.
Jimmy "Bukaloo" Jones agrees with Mr. Smith. He should know. He recorded and produced the CD for his label, Retro South Records, a niche imprint focused on sparse-selling genres, such as hillbilly music, mountain music, old-time bluegrass, honky-tonk, and white power county music.
Responding by telephone he said, "We took the music back to the good-ole day when the music was pure, simple, and real good."
The CD has 16 tracks and 4 bonus tracks. There are guest appearances by the spectacular Carolina Chocolate Drops; super-patriot Lee Greenwood; the red-hot New Majority Ramblers, a rising bluegrass outfit; and the angelic, austere vocal harmonies of the Confederate Gentlemen.
Back of CD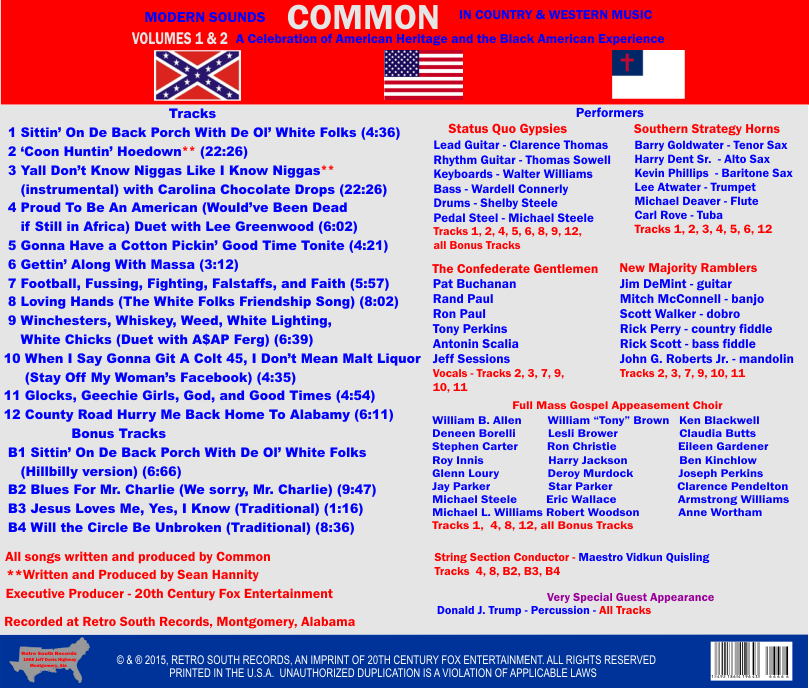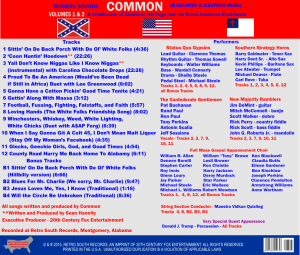 Mr. Jones said he kept the production within the signature styles of Retro South Records.
"We stay pure to our heritage as a people and produce roots country music, stuff you ain't gonna hear on those countrypolitan radio station, none of that garbage that gets made in Nashville."
Mr. Jones was excited when he was approached about producing Mr. Common. "I'm just glad to have been involved 'cause he's a manly-man, true macho kinda dude, unlike those metrosexuals and Wal-mart cowboys coming out of Nashville these days."
Ms. Driver said Mr. Common was grateful to record at Retro South Records. "He was looking for a label that produced real authentic American white country music and not the type of so-gay pop music that passes for country music these days," she said.
Due to Mr. Common's busy film schedule, there are no plans for a tour to support the CD. The publicist stressed they were more focused on the historical importance of the groundbreaking CD and its implication for improving race relations in America.
---
Melody G. Clef covers art and entertainment news.