---
BALTIMORE—Terrified by their genetic ancestry test results, the members of a Baltimore Black Lives Matter chapter have filed a lawsuit against the consumer genetic testing company 23andMe.
In the lawsuit, filed in the Circuit Court for Baltimore City, Black Lives Matter Local 729 alleges that 23andMe engages in "scientific and genetics racism."
Specifically, the activists complain in the lawsuit that the test results of its members didn't show "Black genetic ancestry in any of our tests, not even a trace, nothing at all."
The group wants 23andMe to update its testing methods to include "a Black ethnic group" in the way it determines genetic ancestry test results.

How They Do It

A consumer can order a genetic ancestry test from 23andMe by sending the company a saliva sample, collected by a proprietary method. Human saliva contains genetic material (DNA) from cells in the mouth.
When the salvia sample arrives at a state-of-the-art genetic testing facilities, 23andMe scientists analyze the DNA using the Ancestry Composition algorithm, a patented genotyping process that is a reliable, well-validated, and well-tested system for accurately analyzing human DNA.
The Ancestry Composition algorithm compares DNA against a data set of 31 reference populations to assess human genetic ancestry. When the DNA analysis is completed, the consumer is provided a detailed genetic ancestry report.
The 31 human populations in the Ancestry Composition represent all known human populations that have existed since the dawn of evolution.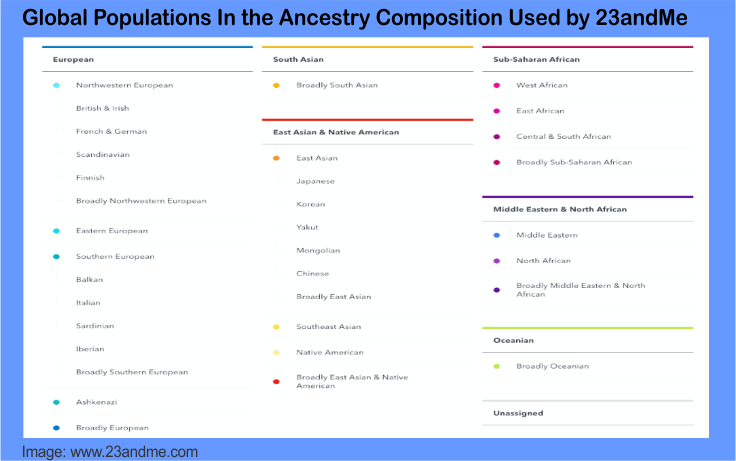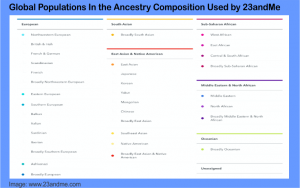 Using the Ancestry Composition method, 23andMe scientists can determine genetic ancestry, even back to specific ethnic groups, tribal affiliations, and ancestral geographic origins, with incredible accuracy.

Fear of a Black Genotype
"This isn't about money. We just want them to acknowledge their obvious, premeditated racist science and going forward include the Black race in whatever categories they're using," Iyabo Melton, Black Lives Matter Local 729 president, said in a telephone interview, speaking from the group's offices in the Little Italy neighborhood of Baltimore.
She pointed to the "inescapable existence of the Black race in America."
"It's 2017 and some white people still can't get over the fact that Black people exist and Black lives matter. This is the ultimate white privilege, choosing to disregard an entire race of people, when we were here long before many of them ever got here," she explained.
Ms. Melton said the lawsuit seeks to compel 23andMe to "check their fake science."
"And it's just beyond us why 23andMe wants to use clearly discriminatory fake science and rip off Black folks. So we want them to explain to our attorneys what kind of science they're using."
She also questioned the racial diversity at the company's location.
"There's probably no Black folks in Mountain View, California [23andMe Silicon Valley headquarters], so maybe they need to move around and see other parts of the country."

Science is Facts, Facts are Science

"23andMe appears scientifically sound regarding their reference population data sets and absence of a so-called black genotype," said Dr. Gene B. Wright—in an interview via smartphone—associate professor in the Department of Colored, African, and African American Studies at The Ohio State University.
Mr. Wright slammed the laboratory door on any possible conspiracy that 23andMe engages in so-called scientific racism.
"Because it's a patented product, I can't be precise about the nature of their data sets. But all genotyping methods resolve to known evolved human populations. That's standard, basic genetics 101. So I would think the methods used by 23andMe would satisfy the rigorous standards established for genotyping human DNA."
He clarified further: "Also, black is not a known evolved population. And I'm not aware of any reference data that could verify such. But I'll reluctantly entertain the hypothetical raised by the group and concede that indeed black lives would matter too. In fact all lives matter."

Black Lives Matter

Ms. Melton poo-pooed Mr. Wright's analysis.
"Maybe he's never been around or seen black people before. Then he should come to Baltimore. It seems he and 23andMe want to treat Black people like we're some sort of nonhuman or subhuman mutants, some kind of humanoid or something.
She explained that the pro-black activists simply want 23andMe to acknowledge black people are part of the human race.
"It's also a human rights issue. They just can't take our money and then call us any kind of name, associate us with every race but our own. We'll take this all the way to the Supreme Court if need be."
When contacted via telephone at their Mountain View headquarters, a 23andMe spokeswoman refused to comment on the lawsuit or the Black Lives Matter movement.

---
Venus Hottentot covers business news and events.