---
WASHINGTON, District of Columbia—If the Walt Disney Company (Disney) ultimately decides to acquire Twitter Inc.—ongoing negotiations appear promising—CEO Robert Iger would reform the social media behemoth's badass reputation.
"We'll going to find ways to integrate and transform it into a true Disney property, but first things first, the haters gotta go," Mr. Iger said Friday during an appearance on Mornings with Maria, a weekday stock market analysis program on the FOX Business Network.
Mr. Iger told host Maria Bartiromo a committee had already been created to explore ideas for the "immediate Disney-fication of Twitter," with the goal to remake Twitter into a more-desirable, "pure as the driven snow" product.
"It'll eventually be a well-behaved operation once it's reset to Disney business standards, and then we'll be able to increase monthly active users substantially, maybe even double or treble it."

Tremendous Twitter Growth, But Hate Group Growth Too
Since its beginning in 2006, the number of monthly active Twitter users has increased almost exponentially year over year, growing to its current monthly average of 313 million active users worldwide.
But along with the wild growth, Twitter has also become a social media incubator for hate groups and terrorist groups, a virtual stomping ground for groups promoting hate speech and violence.
Many market analysts attribute the growth in hate groups to CEO Jack Dorsey's unyielding, insistent business strategy to allow unfiltered, unrestrained, uncensored free speech on the microblogging platform.
So while Twitter has enjoyed phenomenal growth, many users have had to endure racist, homophobic, sexist, misogynistic, and terroristic tweets from groups marketing hate.
Recently, the racist Twitter-strangling of Ghostbusters actor Leslie Jones and the anti-Semite Twitter-strangling of The New York Times editor Jonathan Weisman once again catapulted the social media giant into unwanted national news headlines.

Disney-fication of Twitter
Mr. Iger also told Ms. Bartiromo the Twitter Disney-fication committee had made some early-stage recommendations regarding branding the Twitter user interface.
According to Mr. Iger, current Twitter users would be able to keep their unique username, but they would have to choose a header image and profile image from a database of images related to Disney-owned media companies and products.
In addition, a "Disney Favorites" section would be added under the header image so Twitter users can fanboy their favorite Disney movies and characters.
The CEO said the imposed rules would not stifle creativity because the depth, breadth, and long history of Disney productions will give users access to millions of images to choose, and users will be encouraged to select images from different Disney companies for their user interface.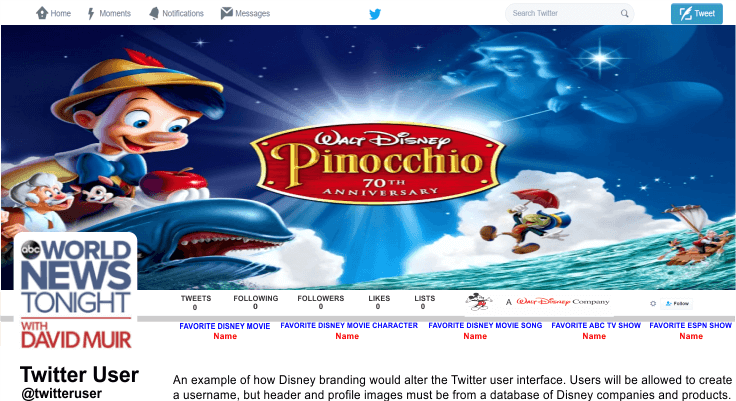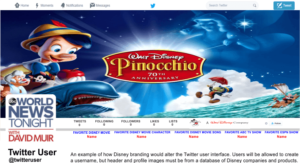 Would Disney Really Dump Legions of Twitter Haters?
Ms. Bartiromo expressed concern about possible market reactions if Twitter's monthly active user numbers collapsed because he "purged all the hate groups like the Klan, Breitbart, and Black Twitter."
The Disney CEO said if such groups adhere to new conduct and behavior guidelines they would be allowed to retain their Twitter accounts.
"As long as they moderate their tweets to language worthy of Mickey and Minnie Mouse, they'll fit in nicely with our traditional family friendly values."
"As for black Twitter," he added, "I don't foresee having problems with a film noir group as long as they don't infringe on our film and TV intellectual properties."
As for black Twitter…I don't foresee having problems with a film noir group as long as they don't infringe on our film and TV intellectual properties.
If the acquisition goes forward, it would be the first social media platform acquisition for the Walt Disney Company. Market reactions to the acquisition talks have been positive so far, with prices for both stocks rising over the last two weeks.

---
Venus Hottentot reports on U.S. businesses and stock markets.