---
PARKER, Colorado—Libertarian Party presidential nominee Gary Johnson has made a last-ditch appeal to be included on the stage for the final presidential debate, which will be held at the University of Nevada-Las Vegas on October 19.
Speaking to a huge crowd at a campaign rally held inside the Great Hall at the University of Colorado South Denver campus in Parker, Mr. Johnson told supporters he had sent a petition to the Commission on Presidential Debate (CPD) seeking to allow him to "share a podium" with Green Party presidential nominee Jill Stein at the final presidential debate.
"We have recent polls that show our combined numbers meet or exceed the 15% threshold, so Jill Stein and I should at least be allowed to share a podium on that stage," he told the boisterous crowd of mostly students that overflowed the university hall."
"If the debate commission can't agree to that, then it'll shows they're the tyrannical enablers of a corrupt two-party system and not interested in letting Americans hear new voices, new voices and new ideas they're clamoring for this election."
In order for a presidential nominee to appear in the debate, one CPD rule requires a nominee to garner at least 15 percent support on the average of five national public opinion polls over a predetermined time period.
Mr. Johnson told the crowd the results of recent polls of young voters that showed Mr. Johnson and Ms. Stein greatly outperformed Republican Party nominee Donald J. Trump and exceeded the 15% threshold.
"You are the future of this country, and you're looking for change, and the Libertarian Party will be the change engine for you. The two-party system is a dinosaur, and we are the comet," he declared, to thundering applause from the audience.
The former two-term New Mexico governor also said he was certain two people could "fit comfortably and easily" behind one podium and not violate a CPD rule that a debater must stay within the physical dimensions of the podium at all times.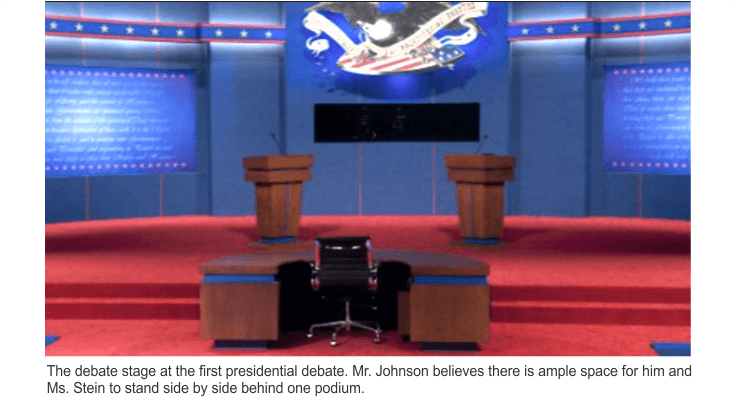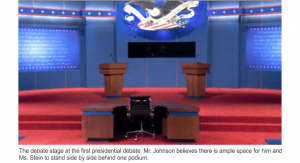 "I'm not a very big dude and she looks sort of like a waifish vegan, vegetarian, or whatever, and probably is, so she's probably like really, really skinny, so we should be able to stand side by side with room to spare. But if it's too tight though, we could probably just stand one behind the other and switch places to answer questions."
Calls to the debate commission inquiring if they had ruled on the petition were not returned.

---
Annis Minor-DeMinimus covers dynamics of 2016 presidental general election campaigns.