---
WASHINGTON, District of Columbia — Although the concept of a postracial-transracial America era has been widely denounced and ridiculed by many social scientists and other critics, results from a recently published research study provide evidence of a recognizable, provable social change occurring in this era, generally acknowledged as commencing with the election of President Barack Obama.
According to the study, the number of Black female blondes is increasing, indicating that Americans are more tolerant and accepting of Black female blondes.
The study, funded by a Cultural Discovery Research grant from the Department of Health and Human Services, was conducted by researchers in The Ohio State University, Department of Black, African, and African American Studies and published in the August issue of Annals of Cultural Trends In People of Color, a peer review scientific journal published by The OSU Press.
The researchers analyzed historical records to determine the percentage of Black female blondes at different stages of America history. In addition, for comparative analysis, they also determined the percentage of white female blondes for the same periods.
The study results show that starting in 2009 the percentage of Black female blondes in America started to increase and by 2014, the study's endpoint, had skyrocketed to unprecedented levels, while the percentage of white female blondes showed gradual increases across that time frame.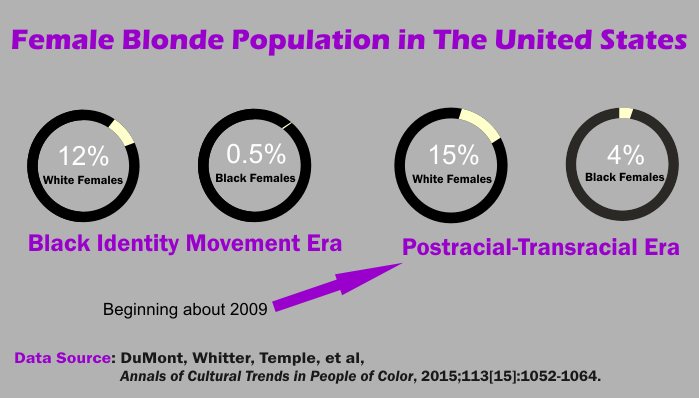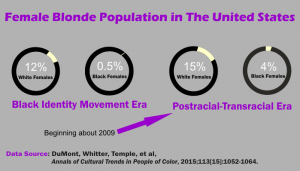 Rochester DuMont, associate professor of black studies and the study's principal investigator, said the results point to strong, unequivocal correlations between the social, cultural, and political components of the study. "These data strongly show there are well-defined causal relationships, one begets the other," said Mr. DuMont.
Mr. DuMont said the overall significant increase in the number of Black female blondes shouldn't be viewed as "shocking or incomprehensible."
"In fact it's a phenomenon that until now has discreetly avoided scientific scrutiny because of pop culture's underwhelming focus on the overrated so-called natural hair movement among Black women," he said.
"Look, all this mumbo-jumbo about the natural hair revolution or regression, or whatever, that's not news. Black folks have always had kinky hair. That's genetics and can't be changed. What's more compelling is the drastic rises seen in the number of Black female blondes."
For data collection, the researchers examined historical records from The Library of Congress, academic libraries, and private institutions, including The Schomburg Center for Research in Black Culture. They also examined public, academic, and private databases, including Huria.
Specifically, the researchers reviewed archival print and microfiche record of popular magazines targeted to Black audience from 1950 to 1970: Sepia, Tan, Ebony, Jive, Jet, Brown, Hue, Hep, and Say.
In addition, the investigators perused early 20th century popular magazines: The Brown American (1936-1945), Colored American Magazine (1900-1909), Messenger: World's Greatest Negro Monthly (1917-1928), Negro Quarterly: A Review of Negro Life and Culture (1942-1943), Afro American Weekly (1941-1950).
The researchers used United States Census Bureau population data to estimate that in 2014 within a population of 23.5 million Black females there were roughly 940,000 Black female blondes.
Mr. DuMont said qualitative analysis methods were not used. "So we're unable to pinpoint with laser-like certitude possible reasons for the results, for example, if perhaps the increases are due to genetic variability or other factors."
"But we clearly make the definitive casual connection that Black female blondes are now more widely accepted and that this is irrevocably tied to the progressive, more-tolerant postracial-transracial climate created and fostered by the Obama administration, which seems to be creating culture-less dynamics in modern America," Mr. DuMont said.

---
Image: Annals of Cultural Trends In People of Color.