---
WASHINGTON, District of Columbia—In what many political analysts say could be a much-needed boost for Democratic presidential nomination candidate Martin O'Malley's stagnant campaign, a poll taken of Democratic voters in the Mid-Atlantic region shows he holds a lead over frontrunner Hillary Clinton.
Overall results of the poll, taken in four jurisdictions, show the former two-term Maryland governor with 84% of likely voters and Hillary Clinton with 16%.
The best-performing jurisdiction for Mr. O'Malley was Baltimore City, where 95% of likely voters favored him. For Ms. Clinton, the best-performing jurisdiction was Montgomery County, Maryland, where 30% of Democratic voters said they would vote for her.
The poll was taken by the Mid-Atlantic Alliance for Voter Accountability (MAAVA) and sponsored by The Colored Folks Times-Dispatch.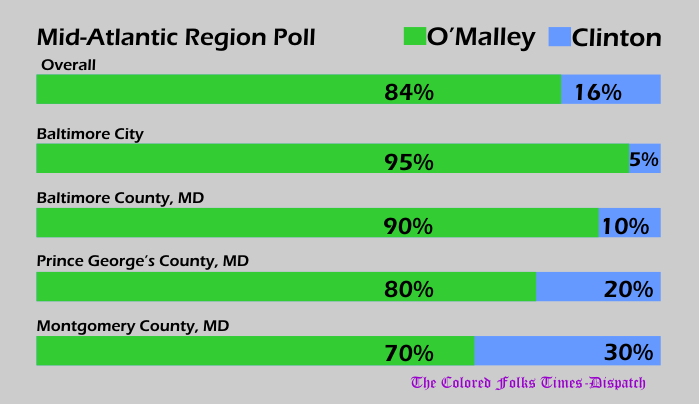 In an interview, Warren Burkhardt, director of MAAVA, said the results were "certainly very much unexpected."
"Even though most polls show Hillary leading in many areas of the country, we thought Marty would do well," he said. "But even we were pleasantly surprised the governor's favorabilities."
Mr. Burkhardt, who held cabinet-level positions in both of Mr. O'Malley's administrations, said he would conduct the poll again after the first Democratic campaign debate on October 13.
"We'll cover other districts next time and get a better feel then of just how well Marty's performing."

---
Annis Minor-DeMinimus covers Democratic presidential candidates.