---
WASHINGTON, District of Columbia—Yesterday, Katrina Pierson, national spokesperson for the Trump-Pence 2016 campaign, offered reassurance to unlawful immigrants that the deportation force Donald J. Trump would unleash, if elected, would not use harsh and brutal tactics.
"Mr. Trump would do the mass deportation in a very humane fashion," Ms. Pierson said, appearing on Tipping Point with Liz Wheeler—a political analysis program on One America News Network, a conservative, Christian, evangelical cable news channel.
"Believe me. Mr. Trump has a bigger heart than you do. He'll be doing it with love."
Ms. Pierson said Mr. Trump would rely on his business background to ensure a "better-organized" mass deportation.
"He'll have better logistics, but the deportation force will not use railcars or cattle cars like during the mass deportation in Germany. Mr. Trump will do it better."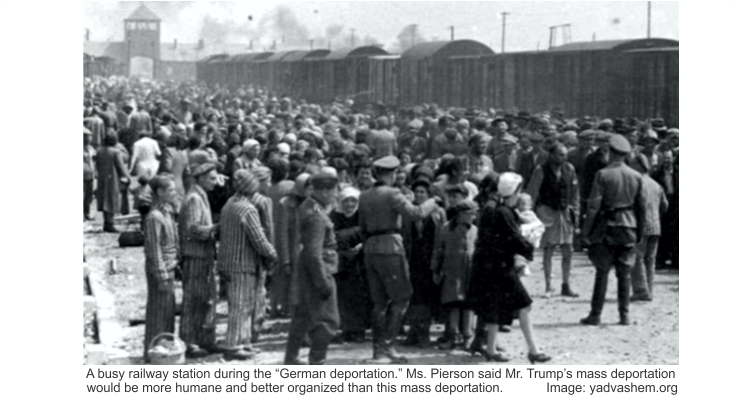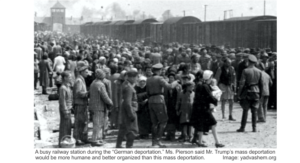 Ms. Pierson told Ms. Wheeler tentative plans call for the proposed deportation force to use large "personalized minivans" instead of commercial box trucks or gigantic 18-wheelers.
"Right now he's looking at the Ford Transit Connect XLT and XL minivans, but the deportation force more than likely will just go with the Ford Transit Connect XLT because it can hold up to 15 illegals and probably more, but Mr. Trump will certainly not use vehicles from so-called American automakers owned by foreigners."
Ford Transit Connect XLT and XL models, a relatively new-generation line of minivans introduced in 2010, feature flexible cargo and passenger configurations and are less expensive and easier to maneuver than regular minivans.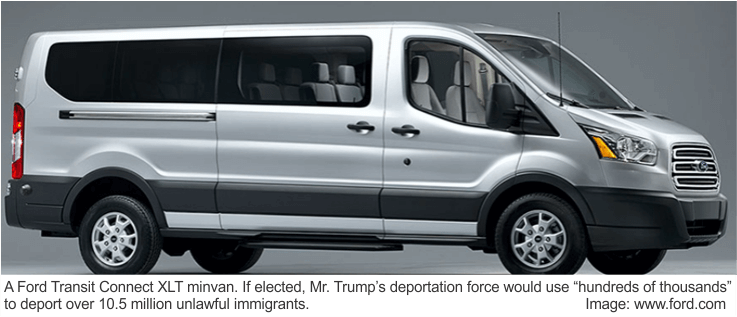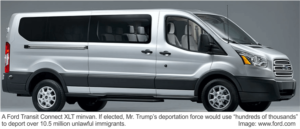 In response to a question from Ms. Wheeler whether using the 15-passenger XLT model instead of the 8-passenger XL minivan would be excessive, unneeded, wasteful big-government spending, Ms. Pierson explained that Mr. Trump intends to show compassion.
"Look, a lot of them have probably been here a long time and some probably have done something good at some point while here, so Mr. Trump will be showing American gratitude, thanks, and empathy by using only the more-comfortable XLT."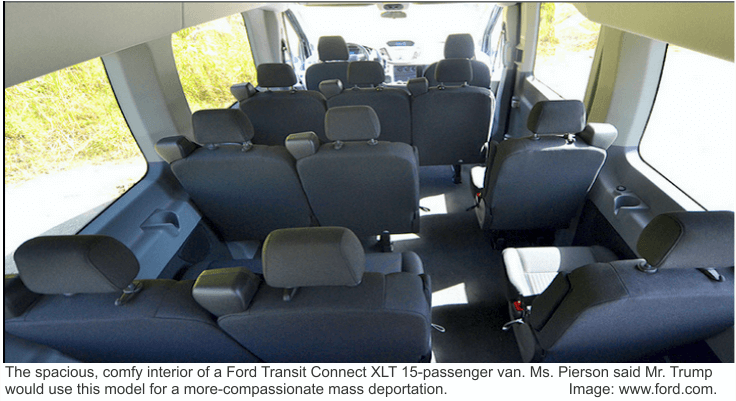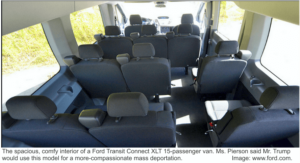 Despite repeated insistence from Ms. Wheeler, Ms. Pierson refused to indicate if Mr. Trump had set a timeline for how long it would take to deport 10.5 million unlawful immigrants using Ford Transit Connect XLT minivans or how many minivans would be needed.
"Well, first of all, I wouldn't call it mass deportation, but Mr. Trump will use hundreds of thousands of them. And we're going to get rid of a lot of bad dudes who are here. That I can tell you."

---
Givhan N. Cites covers the 2016 presidential general election campaign.